*REVISED*
Certified Intraoperative Neurophysiology Practitioner (CINP) Proposal
The original proposed pathway leading to the CINP designation has been altered based on survey results from Canadian IONM professionals and direct feedback from our CANM membership. The executive team and education committee have developed a REVISED proposed pathway and are once again seeking your input. Please complete the anonymous survey (link provided) or send comments to info@canm.ca by March 16, 2018.
Alternate Pathway for Experienced IONM Professionals Employed in Canada (Stream 1 & 2)
Concern:
Case breakdown requiring 25 spine, 25 brain, 25 brainstem, and 25 vascular cases out of the mandatory 300 independent cases put many existing IONM Professionals at an unfair disadvantage due to their practice patterns/opportunities and essentially disqualified them from exam eligibility. Removal of this barrier to exam eligibility will hopefully mean that more currently practicing Canadian IONM Professionals will challenge the CINP exam
PROPOSED CHANGE: Elimination of the case breakdown requirement
Concern:
The decision to hold CANM membership should be an individual's choice and not tied to eligibility for 'grandfathered' pathways. Requirement for membership may be deemed to be inappropriate.
PROPOSED CHANGE: Elimination of recurring CANM membership requirement
Pathway for New IONM Professionals and those Practicing Outside of Canada (Stream 3)
No concerns
Future Pathway for New IONM Professionals (Stream 4 & 5)
Concern:
Development of an internship program has proved to be especially complicated, with liability concerns, case volumes, personnel power, and institutional supports presenting as major barriers. A classical model of employer-supported apprenticeship-style clinical training will provide necessary skills training and practical experience in the interim, but guidelines and standardized structure must be introduced.
PROPOSED CHANGE: Replace internship with apprenticeship. Introduce formalized structure with report card of skills acquisition 
PROPOSED CHANGES for experienced IONM Professionals employed in Canada (Streams 1 & 2):
1. Removal of requirement to maintain a recurring membership in CANM
2. Removal of the CASE BREAKDOWN requirement for exam eligibility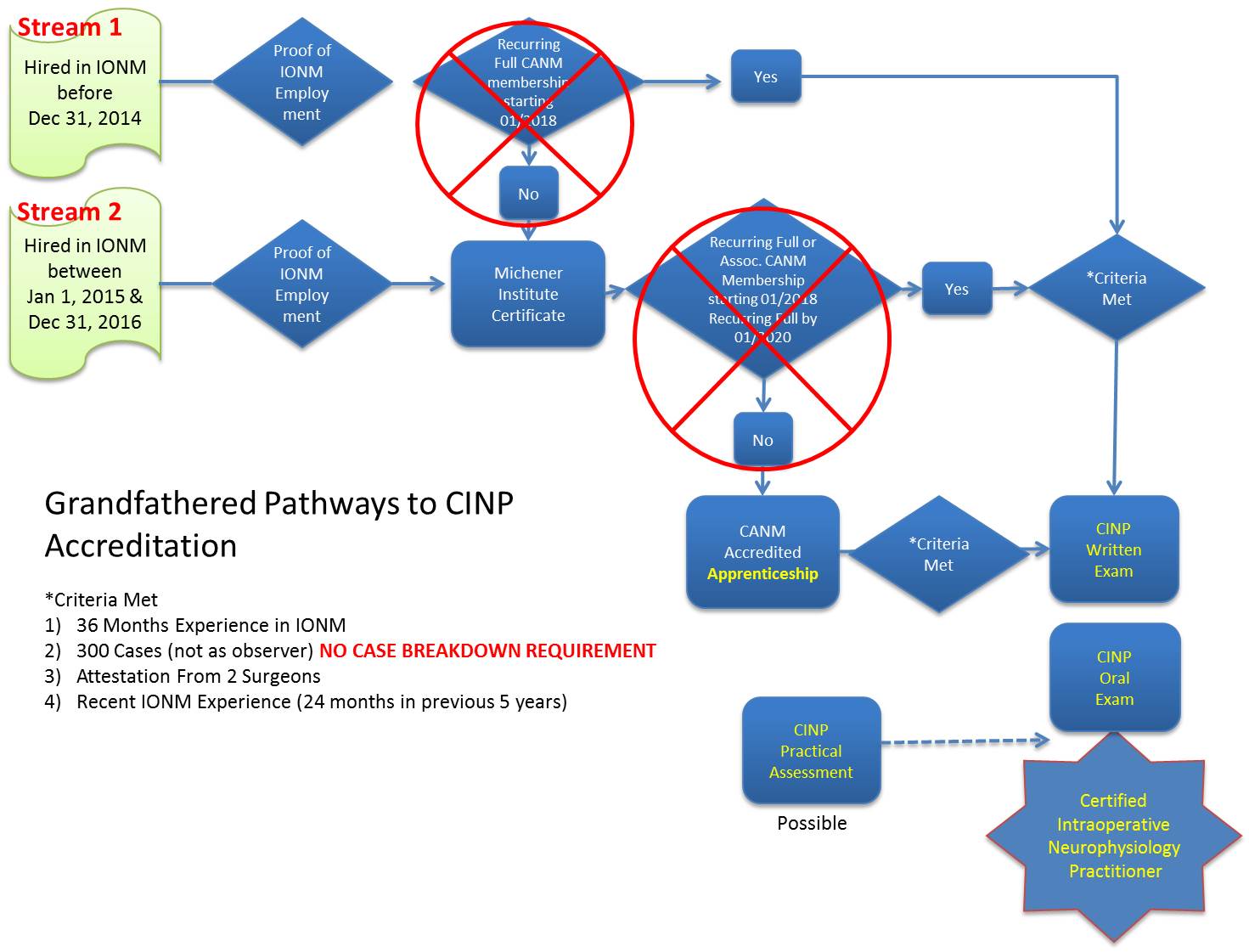 PROPOSED CHANGE for new IONM Professionals (future Streams 4 & 5):
1. Replace internship with apprenticeship
– Create formalized structure with report card of skill acquisition